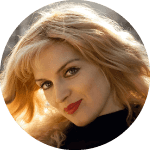 Marina Tugaeva
Marina Tugaeva, editor-in-chief of the Yug Times weekly
30-08-2010
Inherited talent. Three generations of artists
---
"An artist is a great sacrifice of a person to society. Initially, you know that you are a kamikaze. But angels are constantly hovering around you and ... And you do it, "says the famous Anapa artist Damir Krivenko. He and his family cannot imagine themselves without brushes and paints.
Two halves
For the first time that there is such a girl - Tanya Zavizionnaya Damir learned back in the 80th. He was then 10 years old. There was a large exhibition of children's works in the Palace of Pioneers in Alma-Ata. Two drawings especially struck him. On them a lion and a horse, painted in bright colors. He carefully read the name of the young artist - Tatiana Zavizionnaya. These works remained in his memory for many years.
Time has passed. When Damir was 15 years old, he suddenly met Tanya at a preparatory course at an art school. The guys got into one group. At that time, they felt sympathy for each other, nothing more. Then Damir went to the army.
- He returned and immediately came to our home, - Tatyana recalls. - Confidently, almost from the doorway said: "You are my half. I know it. We should be together".
Tanya then, laughing, said: "If we live together, over the years we will bore each other." To which Damir answered her: "No, the longer you live together, the stronger the relationship."
…They married. The parents were very happy with the choice of their children. They considered it fate. After all, they, too, in their youth studied together at an art school. The tannins are in Stroganovskoye, in Moscow, and Damir's parents are in Repinskoye, in St. Petersburg. In addition, it turned out that the two families have known each other for a long time. Tatyana's father is a leading monumentalist, painted government objects, and decorated the largest hotels. Mother painted pictures. Damir's parents - an art critic mother and father - an architect and an artist by the nature of their work, crossed paths with them. So two famous creative families in Kazakhstan became related.
Painting for the Pope
At that time, the family clan of artists was known not only in the republic, but also far beyond its borders. Their paintings - of both children and parents - were bought up and given away all over the world.
The President of Kazakhstan Nazarbayev, representing the country, brought paintings as a gift to the heads of state. So their creations ended up in the collection of the US President Clinton, the ruler of Japan - and even the Pope ... But the happy flourishing of their creative family union was destined to be interrupted.
- The union collapsed, in Kazakhstan we became strangers. We decided to go abroad.
To Prague, - says Damir. - By that time we had two children - Daniel and Alina. Father-in-law and mother-in-law went with us. And my parents left for St. Petersburg.
Life in a foreign land was not very good. Ironically, we ended up at the Kazakh embassy. My mother-in-law has lost her passport. This is how we met the consul of Kazakhstan in the Czech Republic. He helped us organize exhibitions not only in Prague, but also in Budapest, Poland - in the countries of the European Union, in the most elite places. They were attended by up to 30 ambassadors from various countries. Although the paintings of the artists were a huge success, there was not enough money from selling them to their own corner. Because the embassies had no right to do business.
- But we learned to paint a city landscape, made friends, - continues Tanya. - But dad and mom, hearing Russian speech, almost sobbed. They were painfully drawn to Russia. And then the Russian mafia began to "run over" on us. We wanted to pick up our family collection.
100 works disappeared from the exhibition. And then we decided ... Dad hired a van, into which we loaded our only value - canvases - and at dawn left the country. Simply put, they ran away.
With different adventures, two families of artists reached Belarus. Tanya's grandmother lived there. (By the way, her husband - Tanya's grandfather - was an art teacher).
The young couple Krivenko with children decided to return to St. Petersburg. And the Zavizionny stayed. Take care of your old mother. There was a default in St. Petersburg. It was said in the city that the food in the shops was left for two days. After a well-fed Europe, hearing this was incredible. - Shock - this was how our state could be expressed, - the artists recall. - We rented an apartment, now we lived in the same city with our other parents. The hard times of lack of money came, because of the damp climate, children constantly caught cold. We learned by chance that we have relatives in Anapa. They bought tickets for the last $ 300 and waved south.
Masterpieces among the pans
The climate here was divine. Nature is disposed to landscapes. Tatiana and Damir hoped that they would become necessary and useful in this city. But their paintings were of interest only to wealthy people, businessmen or rare collectors. For most of the inhabitants, it seemed too expensive.
"In Anapa, we learned to paint seascapes and portraits," says Tanya.
Several years ago they did an exhibition of their work.
"We were shocked by the reaction of people," the artists recall. "Children and adults came to us in droves. The teachers brought the students into the classes. People walked and walked as if to a demonstration. It was evident that they were hungry for art. And one of the women told us in the morning that she had not slept all night ... This revelation was the most valuable for us.
- And now Damir and I are all the time trying to tell people: there are a lot of beautiful things in the world. But the values ​​of the earth that the Lord created, we often do not notice. People have learned to want very well and have forgotten how to feel ...
Now the two families are united again. Only now Damir, Tatiana and their children live with only one Zavizionny. His wife, Innessa, died two years ago. The gray-haired 72-year-old man finds solace in paintings and grandchildren. He also teaches at the local branch of the institute in the design department. Daniel is studying there now - he also paints pictures, only not on canvas, but on a computer. And he is already collecting his own collection of works by parents and grandparents.
The artists are still renting an apartment - a studio that has been turned into a studio. Pictures and easels are everywhere - even in the kitchen. Among pots and all kinds of kitchen utensils, they paint masterpieces.
They dream of their own workshop and a gallery, which, they hope, will one day appear in their now native seaside town.
They are still fumblingly happy. And Tanya confirms in surprise that over the years their love has actually become stronger. Together they write many of their works, although Tatiana is more of a painter, Damir is a romantic surrealist, and their dad Gena (as they call him) is an avant-garde artist.
They still haven't saved up for their own housing. Their most important wealth is paintings. The years at the easel have shaken and health - Damir walks with a cane due to a hernia of the spine. Gena's dad is now recovering his health at the hospital. But painting still feeds them. And there is strength for creativity. Recently purchased a car - we pay for it ... with pictures. They only dream of painting them in their own garden.
Article from the newspaper: Weekly "Arguments and Facts" No. 26 30/06/2010